Current Location:
News
News
The Crop Science Society of China Organizing the Forum on World Seeds and Food Security Development
The 23rd Annual Meeting of the China Association for Science and Technology (CAST) was successfully held in Yichuang International Convention and Exhibition Center, Beijing, on July 27th and 28th, 2021. At the meeting, the World Seeds and Food Security Development Forum held by the Crop Science Society of China (CSSC) was conducted with on-site and online lectures; the lectures were broadcast worldwide. More than 80 representatives from domestic universities, research institutions and enterprises attended the on-site meeting, and about 229,600 people watched the live broadcast via the official website of the annual meeting of CAST, the China National Knowledge Infrastructure (CNKI) live broadcast platform, and the China Science and Technology Innovation live broadcast platform. The forum was hosted by Yunbi Xu, Deputy Editor-in-Chief of The Crop Journal and Professor of the Institute of Crop Sciences, Chinese Academy of Agricultural Sciences (ICS-CAAS).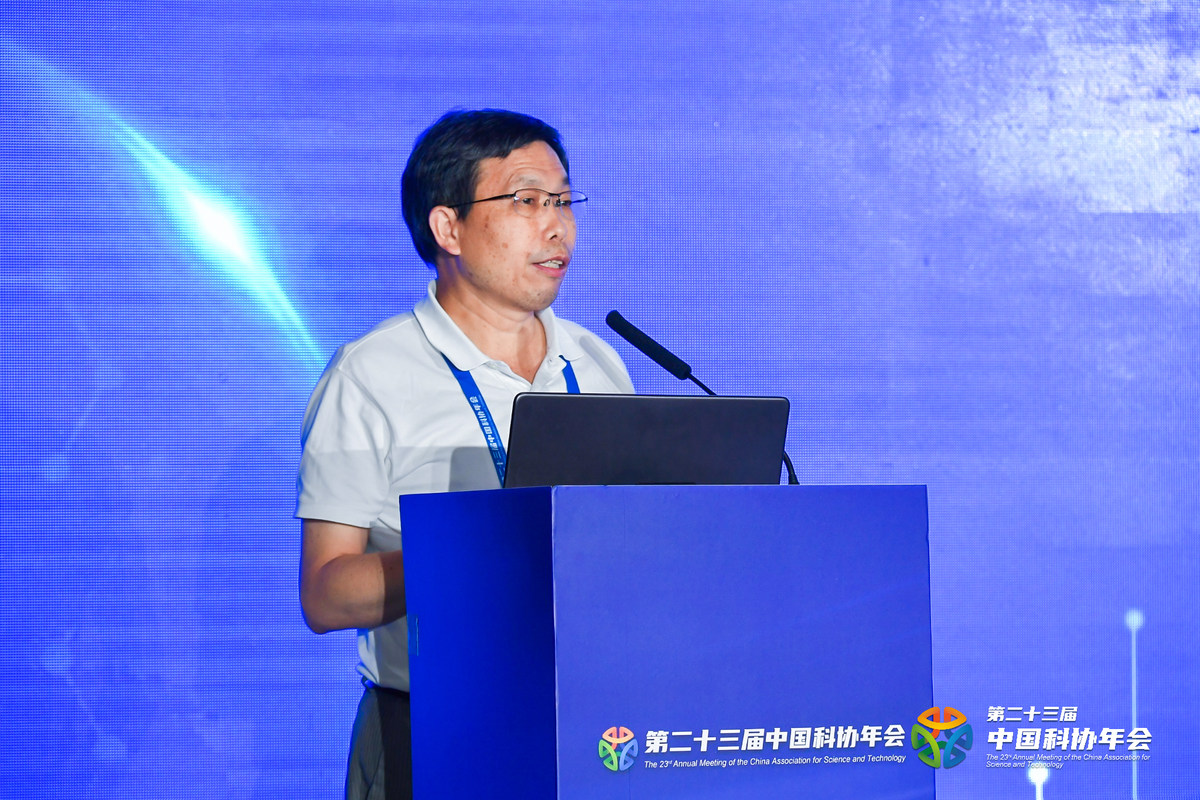 Yunbi Xu hosting the forum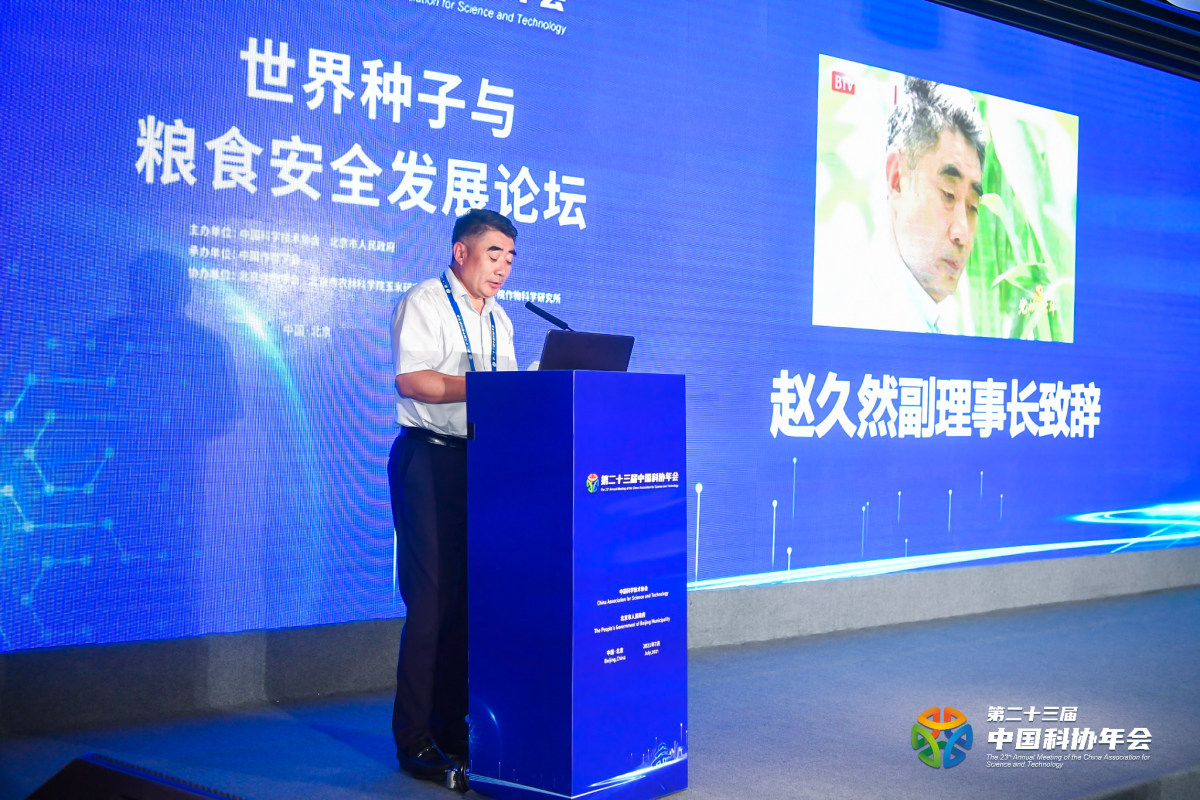 Jiuran Zhao making the opening remarks
Jiuran Zhao, Vice President of the CSSC, President of the Crop Science Society of Beijing, and Director of the Maize Research Center, Beijing Academy of Agriculture and Forestry Sciences (MRC, BAAFS), made the opening remarks. He stressed that the seed industry is the "chip" of modern agriculture; seed industry security is a prerequisite for food security. In recent years, the development of the seed industry in China has produced great achievements. Food in China is mainly cultivated from native seed varieties, which have provided bumper harvests of grain for years running. However, there are still problems and weak links in the seed industry and related fields. At present, there is reason for pessimism about global food security. The global food supply chain was seriously impacted by the COVID-19 pandemic. Food security is the top priority for the national economy. How to secure food security in China and jointly build global food security is a topic of common concern.
Focusing on the theme "Food Security and Sustainable Agricultural Development," the forum invited leaders and experts from the Food and Agriculture Organization of the United Nations (FAO), the International Maize and Wheat Improvement Centre (CIMMYT), the International Crops Research Institute for Semi-Arid Tropics (ICRISAT), and the African Agricultural Technology Foundation (AATF), respectively. They delivered their presentations via the Zoom video conference system from Italy, Germany, India, and Kenya. In addition, three experts including one Academician and two Professors from China spoke. All speakers focused on the major international need for food security and sustainable agriculture. The forum included in-depth discussions of policies and strategies for innovating germplasm resources and securing food supply, and identifying major issues in agricultural development, with proposed solutions at the macro and micro levels, including theoretical and practical aspects.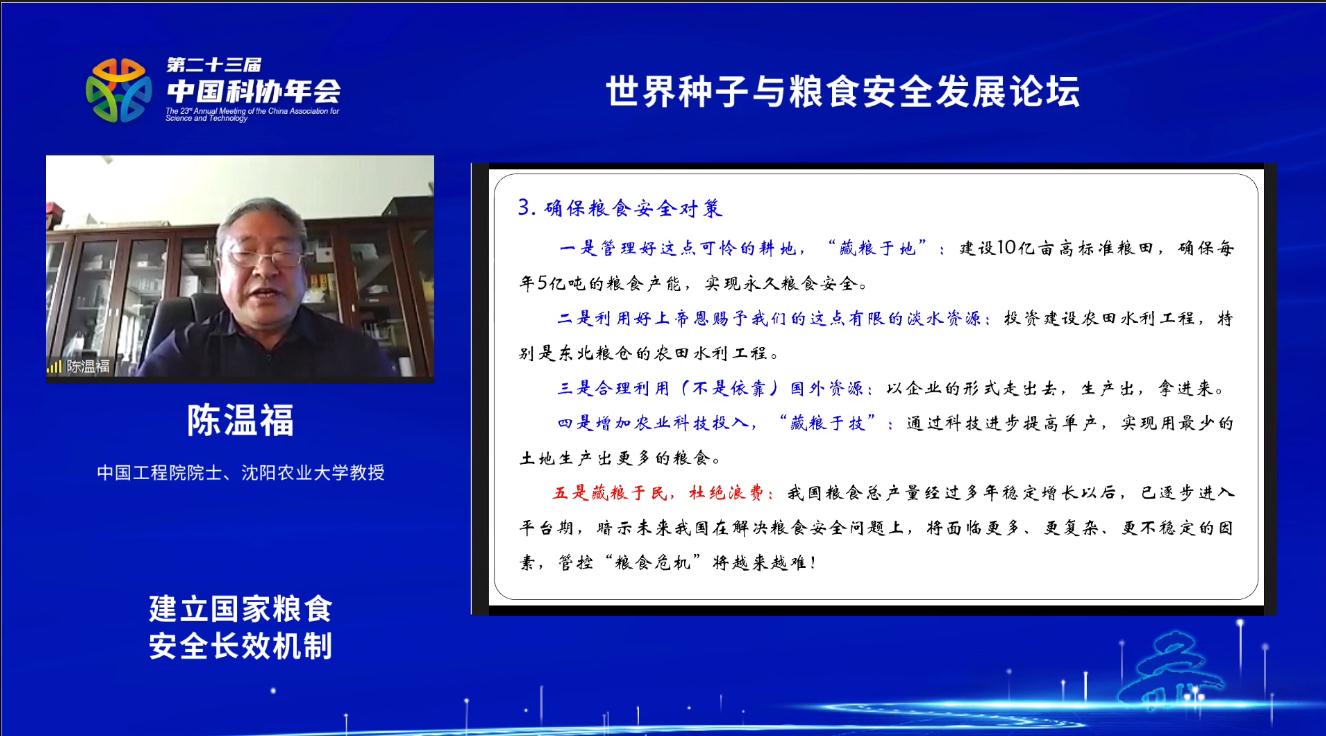 Academician Wenfu Chen delivering his presentation
Dr. Wenfu Chen, Academician of the Chinese Academy of Engineering and a Professor of Shenyang Agricultural University, stressed in his presentation on establishing a long-term mechanism for national food security, that improvements in science and technology are pushing forward the yield potential of land to its ceiling. On the basis of adhering to the red line of 1.8 billion mu (667 square meter) of arable land nationwide, we should emphasize developing one billion mu of high-standard farmland. At present, the average yield of arable land in most areas of our country has reached above 550 kg/mu. If one billion mu of high-standard farmland is available, 550 million tons of food production capacity will be ensured, and food security will be guaranteed.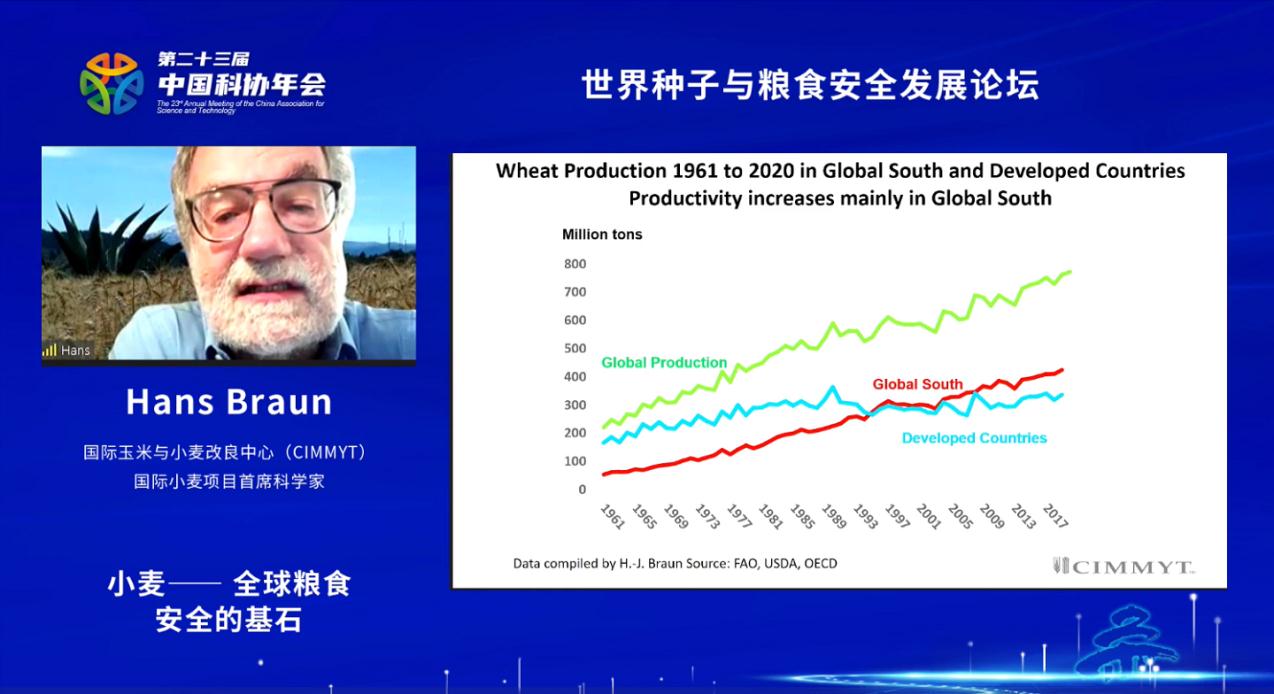 Dr. Hans-Joachim Braun delivering his presentation
Dr. Hans-Joachim Braun, Chief Scientist Emeritus at the CIMMYT and former Director of the Global Wheat Program, pointed out in his speech "Wheat — a Cornerstone for Global Food Security," that wheat is rich in protein, trace elements, vitamins, and so on. It is the most traded crop in the world, and it is crucial to global food security. It is better able to adapt to environmental changes than other food crops.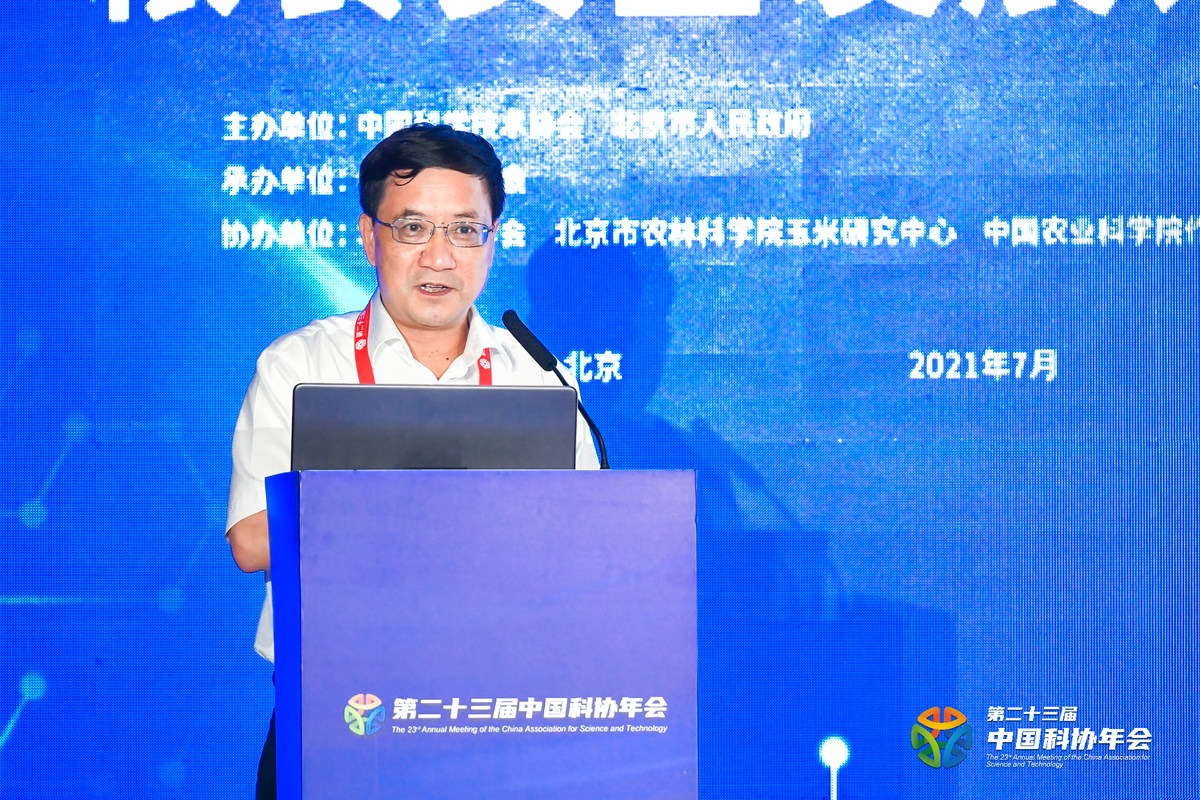 Professor Jikun Huang delivering his presentation
Professor Jikun Huang, Academician of the Academy of Sciences for the Developing Countries and Director of the Institute for New Rural Development, Peking University, delivered his presentation on "China's Food Security and Agricultural Development in the Global Context." In his view, over the past 40 years, China has maintained a high growth-rate in agriculture and guaranteed national food security, which is credited to the government, who have implemented a series of crucial strategies to ensure food security, green and sustainable development of agriculture, promoted opening-up to the world, and participated in constructing a global governance system for trade.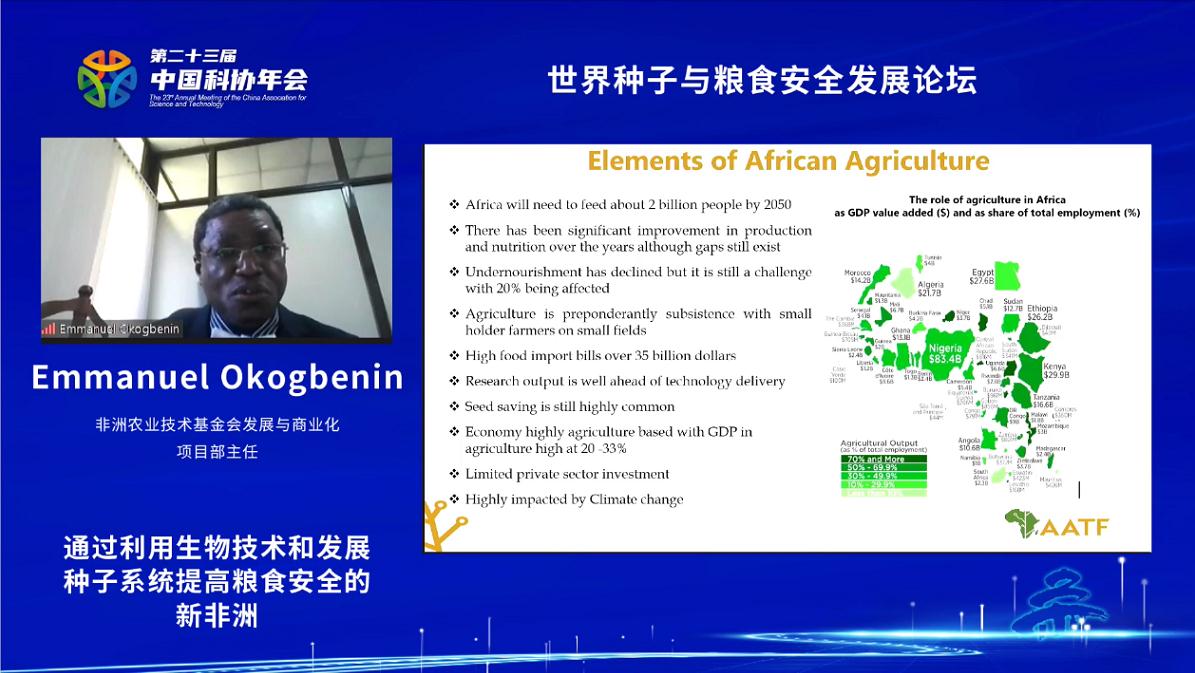 Dr. Emmanuel Okogbenin delivering his presentation
Dr. Emmanuel Okogbenin, Director of Program Development and Commercialization at the AATF, mentioned in his presentation, "Unveiling a New Africa for Improved Food Security Through Biotechnology Uptake and Seed System Development," that Africa has made significant improvements in food production and nutrition provision in recent years, but still faces huge costs for food imports. So, it is important to strengthen biotechnology in the seed industry to gain better germplasm resources, promote the development of seed systems, and industrialize agriculture across the entire continent of Africa.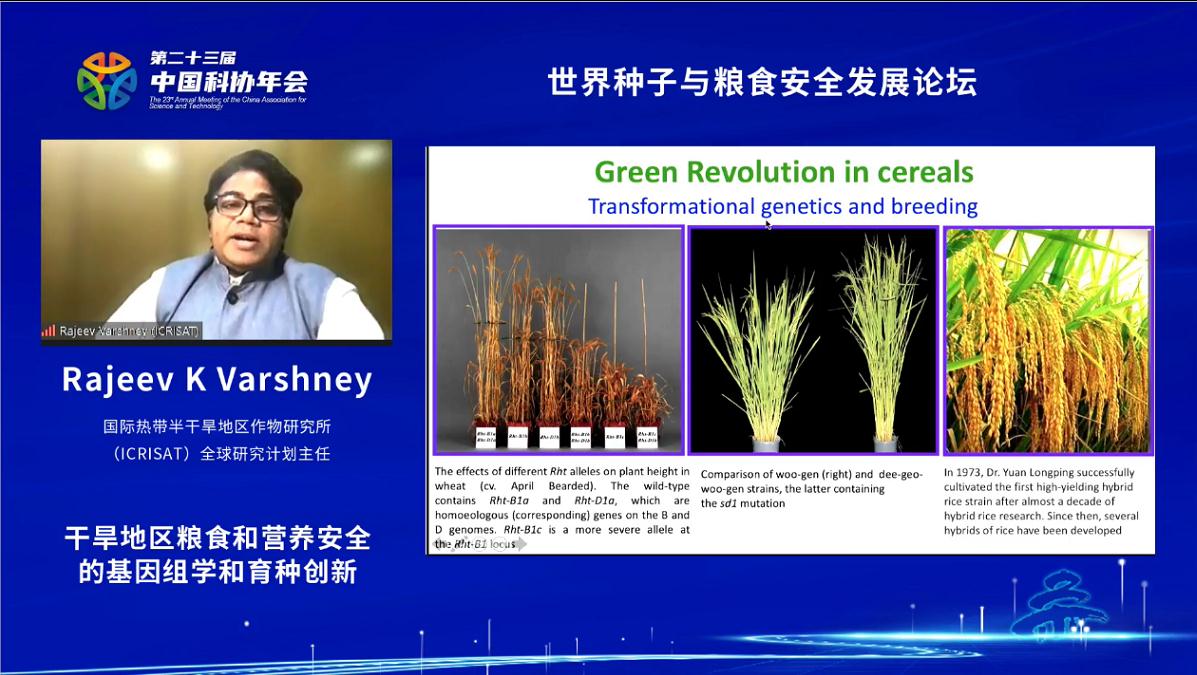 Professor Rajeev K. Varshney delivering his presentation
Professor Rajeev K. Varshney, Director of the Global Research Program at the ICRISAT, made a speech on "Genomics and Breeding Innovations for Food and Nutrition Security in Dryland Regions," in which he shared progress and experience of research in genomics and breeding for food and nutrition security in dry areas. He said that the use of genomics-assisted breeding, combining digital and artificial intelligence technologies, and selecting suitable crop lines, would ensure the sustainable increase of crop yields in dry regions.
Dr. Arshiya Noorani delivering her presentation
Dr. Arshiya Noorani, Agricultural Officer of the Department of Plant Production and Conservation of the FAO, made a presentation on "In situ Conservation of Plant Genetic Resources for Food and Agriculture." She said the in situ protection of agricultural plant genetic resources is very important for food safety and nutrition. FAO has developed a series of guidelines for the conservation and use of crop diversity, and implemented several programs, for instance, the Global Plan of Action for Plant Genetic Resources for Food and Agriculture. Constant monitoring and assessment of agricultural plant genetic resources are required. We should pay more attention to raising public awareness of the importance of protection of wild relatives of crop strains.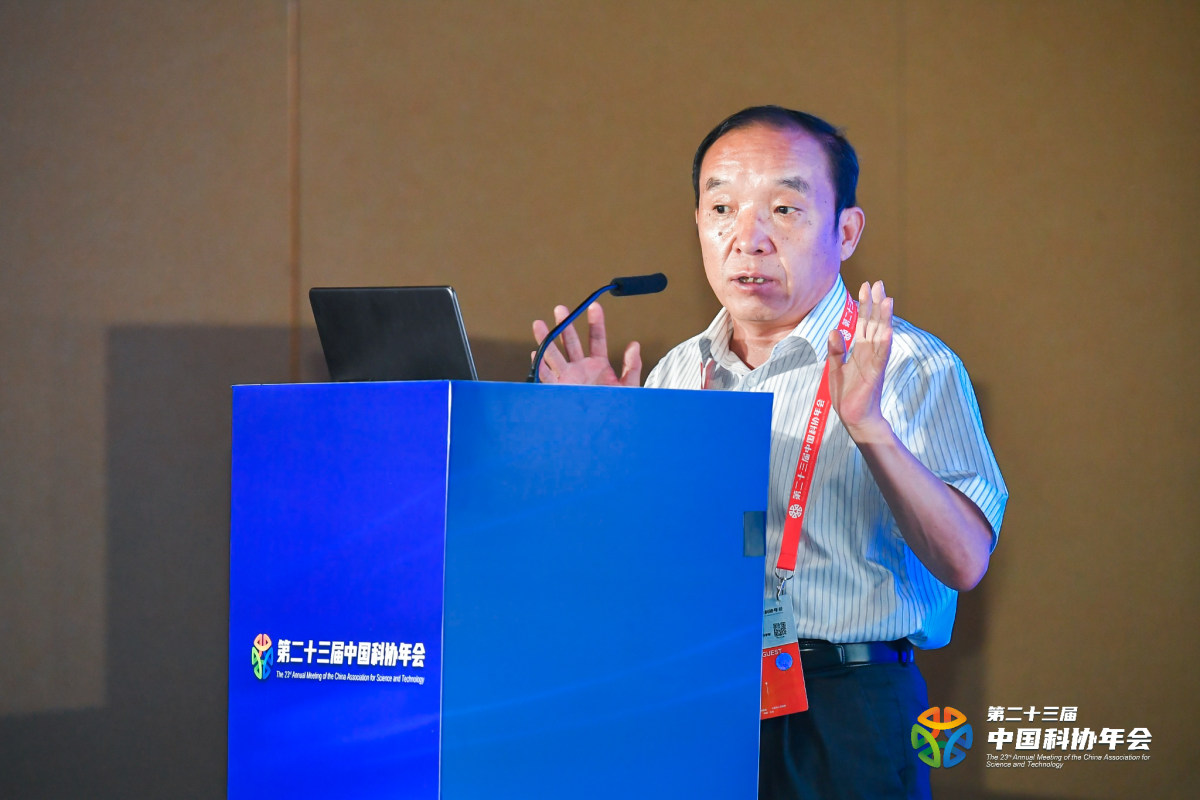 Dr. Lihui Li delivering his presentation
Dr. Lihui Li, a Professor of the Institute of Crop Sciences, CAAS, stressed in his speech, "Conservation and Utilization of Crop Germplasm Resources in China," that China has established a state-led system for the protection and management of crop germplasm resources. Crop germplasm resources are playing an increasingly significant role in addressing major national needs, supporting fundamental research, food security, people's aspiration for a better life, industrial development, and so on.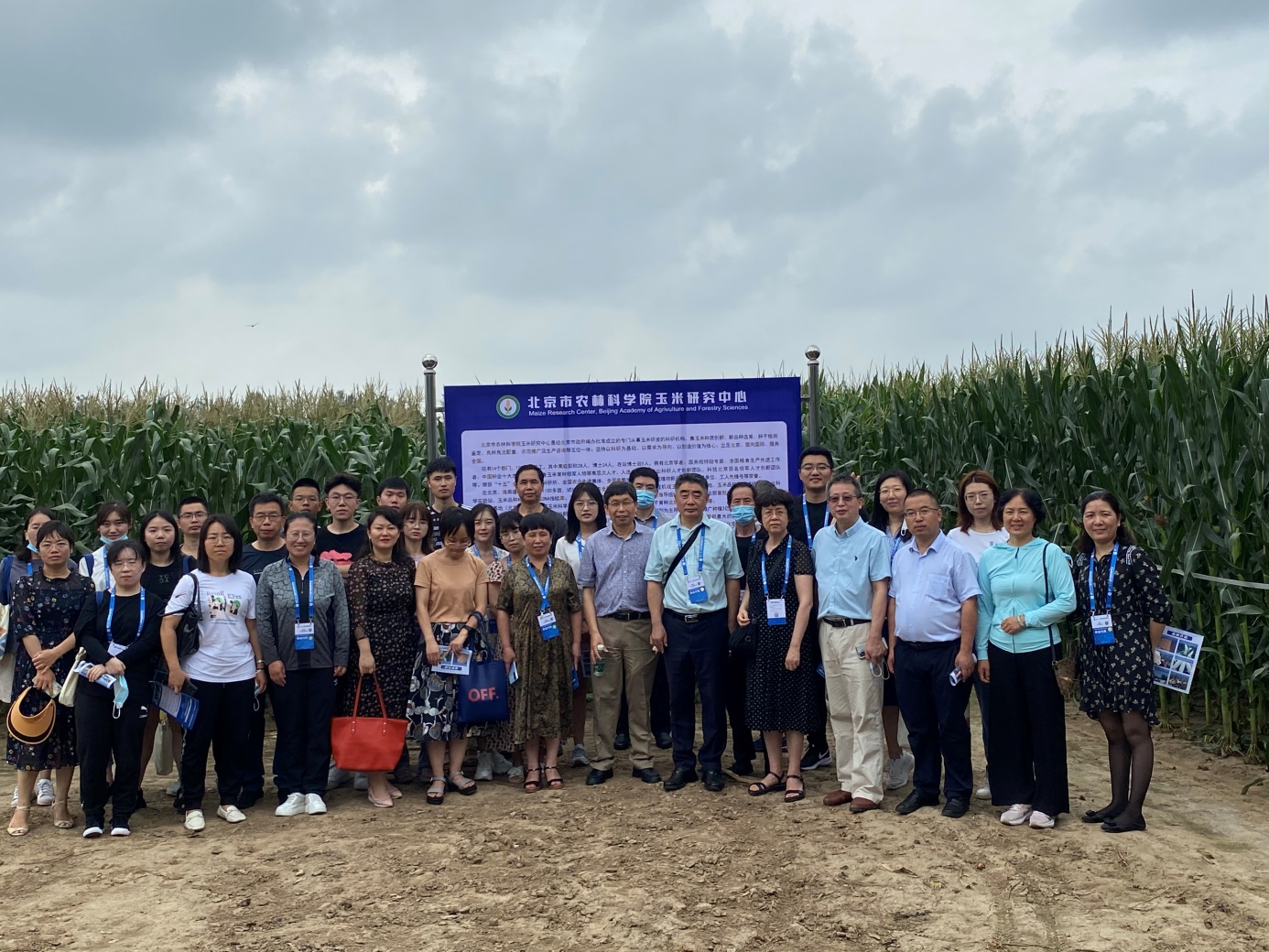 Attendees visiting the maize base of the MRC, BAAFS
On July 28th, more than 30 participants visited Tongzhou Science and Technology Garden for the International Seeds Industry, Jingdong Plant Factory, and the maize base of the MRC, BAAFS.
The forum was co-organized by the Crop Science Society of Beijing, the Maize Research Center of Beijing Academy of Agriculture and Forestry Sciences, and the Institute of Crop Sciences, Chinese Academy of Agricultural Sciences.